Description
Tête de Moine (Monk's Head) raw milk cheese – shaved, curled or cubed.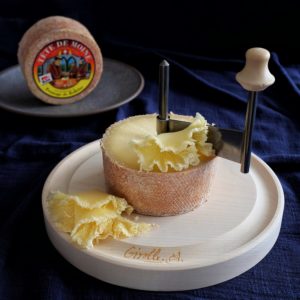 Tête de Moine, Swiss raw milk cheese with a long tradition. The Tête de Moine was invented and initially produced more than eight centuries ago by the monks of the abbey of Bellelay, located in the community of Saicourt, district of Moutier, in the mountainous zone of the Bernese Jura, the French-speaking area of the Canton of Bern.
Traditionally, the cheese is prepared for eating in an unusual way: the cheese loaf is carefully scraped with a knife to produce thin shavings, which is said to help develop scented flavours by allowing oxygen to reach more of the surface. Tête de Moine, literally as "Monk's Head". The name was first documented in the records of Mont-Terrible, a Department established by the French when they annexed the region from 1793 to 1799 at the time of the French Revolution.
Writings from 1292 attest that the cheese of the abbots of Bellelay had acquired such a reputation that it was used to pay the royalties of the stockbreeders to the farms' owners, to regulate litigations, being offered as presents to the prince-bishops of Basel, or even as currency. It is made from raw cow's milk and is characterized by a cylindrical form. It is excellent with dry white wine, after being matured for a minimum of 2½ months on small spruce plank.
All half wheels will come vacuum sealed bags. Full wheels will come in cheese paper. If you would like 2 half wheels instead of 1 full wheel, please simply increase the amount on the check-out/cart page. The price will be different to a full wheel due to the required cutting and repacking.
Must-have Accessory
The best way to cut/shape the Tête de Moine is by putting it on an orginal Girolle. You can find these Girolle shapers in our shop as well. Or if you prefer, go with the 'all-in' solution and get the gift pack 'Pirouette' consisting of a half-wheel Tête de Moine and a reusable plastic cutter.
How the cheese gets to you
All Alpine Express cheese are shipped in environmentally friendlier, insulated cardboard boxes. The cheese is bolstered with recycled packing paper & kept cold with food grade ice gel pack(s). It is shipped the fastest possible service, usually Australia Post Express. See Australia Post's Express Delivery Estimator (origin is 'Brisbane Metro'). From time to time we may choose a different shipping provider depending on speed of service, costs and other factors.
Unless noted otherwise, all cheese boxes are sent on Mondays with an order cut-off time at 9am (Sydney time) that day. You will get a tracking number to follow your parcel's progress.
Do you have any other questions? Check our FAQs for additional information or write to us via our contact form.