Description
L'Etivaz AOP is a hard cheese made using unpasteurised milk. It is produced by hand in over one hundred alpine creameries in the Vaud Alps between May and October using unpasteurised milk, an open fire and the traditional recipe. The unpasteurised milk is processed on site and is full of the aromas of fine alpine herbs.
Etivaz AOP has a distinctive, tangy, fruity flavour with a slightly nutty note. The flavour varies from Alp to Alp, depending on the diet of the cows. The cheese ranges in colour from ivory to light yellow. The wheels weigh between 15 and 35 kilograms. Etivaz AOP is matured for between five and 13 months and can be stored for very long periods. It is only produced in small quantities: 400 to 430 tonnes, or 17,000 to 19,000 wheels, during the summer months.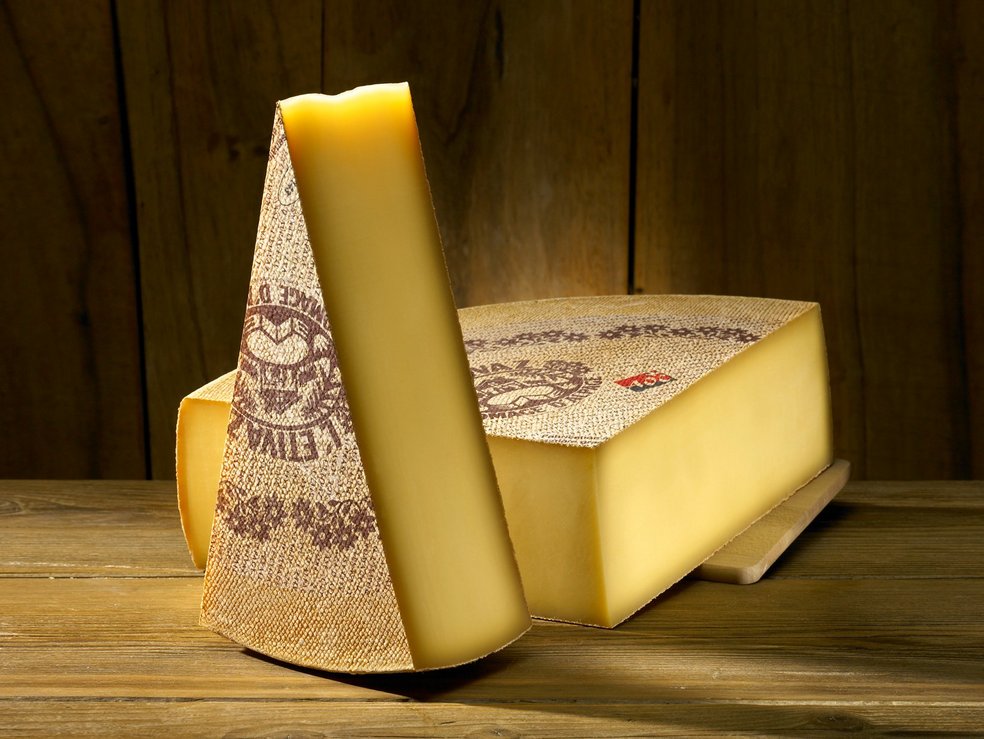 How we wrap your cheese
Freshness of your cheese is important to us. That's why – unless noted differently in the description – we package all of our cheese in vacuum bags to help minimize travel impacts. However, we understand that some of you prefer cheese being wrapped in cheese wrap. This option is available to you for a small fee (it takes more time to package the cheese this way, that's why we charge you a little bit more). Unless specifically noted in the description, all cheese will generally have a best before date of at least 14 days, vacuum packed cheese generally about 2 months. Please note that with cheese this is often only a guidance date and does not necessarily mean the cheese will be of lesser quality beyond that date. In fact many soft(er) cheeses are best kept close to or until after that date for maximum ripeness.
How the cheese gets to you
All Alpine Express cheese are shipped in environmentally friendlier, insulated cardboard boxes. The cheese is bolstered with recycled packing paper & kept cold with food grade ice gel pack(s). It is shipped the fastest possible service, usually Australia Post Express. See Australia Post's Express Delivery Estimator (origin is 'Brisbane Metro'). From time to time we may choose a different shipping provider depending on speed of service, costs and other factors.
Unless noted otherwise, all cheese boxes are sent on Mondays with an order cut-off time at 9am (Sydney time) that day. You will get a tracking number to follow your parcel's progress.
Do you have any other questions? Check our FAQs for additional information or write to us via our contact form.