Description
Le Maréchal, an artisanal style raw milk cheese prepared in the heart of the Vaud countryside celebrates the tradition of authentic and conscientious craftsmanship.
Its name honours the great grandfather of the Rapin family, Émile Rapin (1852 to 1943), a blacksmith from Corcelles-près-Payerne. Deeply devoted to his work, with a generous heart and a hearty appearance, Emile represents the values true to this cheese, both original and generous in its nature.
Produced in the artisanal cheese making facility of the Rapin family, Le Maréchal is a melt-in-the-mouth cheese, whose flavor is subtly accentuated by the addition of organic herbs. Twice a day, Jean Michel, Grégory, Kevin and Mathias Rapin open their doors to the fresh and still hot milk delivered, by 13 farms from the Vaud region.
In accordance with local cheese making traditions, the Rapins transform the milk into cheese no later than ten hours after the cows have been milked. The cheese is then wrapped in cloth and pressed into molds. During the ripening phase, the Rapin family adds a mix of aromatic organic herbs.
Only milk from the local countryside
Le Maréchal is produced using milk supplied by 13 local farms. Respectful of nature and their cows, the local producers guarantee the quality of their milk which is naturally rich in Omega 3. The Omega 3 are also naturally found in the Le Maréchal cheese.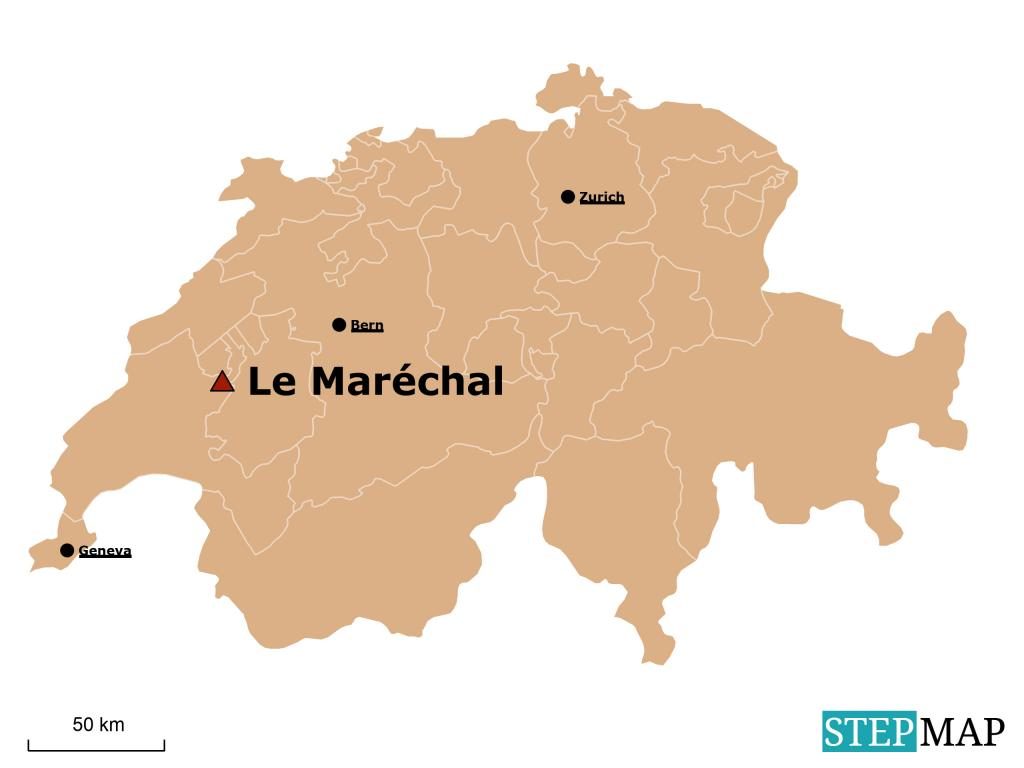 How we wrap your cheese
Freshness of your cheese is important to us. That's why – unless noted differently in the description – we package all of our cheese in vacuum bags to help minimize travel impacts. However, we understand that some of you prefer cheese being wrapped in cheese wrap. This option is available to you for a small fee (it takes more time to package the cheese this way, that's why we charge you a little bit more). Unless specifically noted in the description, all cheese will generally have a best before date of at least 14 days, vacuum packed cheese generally about 2 months. Please note that with cheese this is often only a guidance date and does not necessarily mean the cheese will be of lesser quality beyond that date. In fact many soft(er) cheeses are best kept close to or until after that date for maximum ripeness.
How the cheese gets to you
All Alpine Express cheese are shipped in environmentally friendlier, insulated cardboard boxes. The cheese is bolstered with recycled packing paper & kept cold with food grade ice gel pack(s). It is shipped the fastest possible service, usually Australia Post Express. See Australia Post's Express Delivery Estimator (origin is 'Brisbane Metro'). From time to time we may choose a different shipping provider depending on speed of service, costs and other factors.
Unless noted otherwise, all cheese boxes are sent on Mondays with an order cut-off time at 9am (Sydney time) that day. You will get a tracking number to follow your parcel's progress.
Do you have any other questions? Check our FAQs for additional information or write to us via our contact form.