Description
Orders for this box have now closed. You can still order other, individual cheese for dispatch as per our Christmas dispatch guidelines.
Indulge in the exquisite world of properly matured raw milk cheese with our specially curated Rolf Beeler cheese box. Whether it's for your festive cheese platter or a thoughtful gift, this unique collection is as delightful as it is distinguished. Rolf Beeler, revered as the 'Pope of Cheese' in Switzerland, collaborates with select producers to craft and age cheese, ensuring an unparalleled taste experience. Elevate your culinary moments with the renowned artistry of Maître Fromager Rolf Beeler, who played a pivotal role in making Swiss artisan raw milk cheese a global sensation.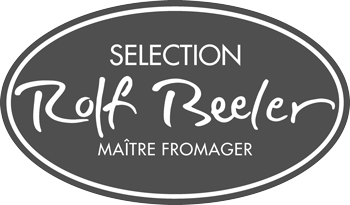 The Rolf Beeler Cheese Box contains the following three cheeeses:
Rolf Beeler Gruyère, 18 months, Switzerland, ca. 200g
Rolf's best seller and for a reason. This Gruyère AOP is single origin from a producer getting high altitude raw milk. High altitude is important as the grass there contains more flower and herb variations leading to a more floral milk which is coming through in this 18 months matured masterpiece. With calcium crystals showing in the matured cheese, this Gruyère has a crunchy bite which so many people love.
Rolf Beeler Emmentaler AOP, 18 months, Switzerland, ca. 200g
The Emmentaler is probably the most copied cheese worldwide. Sadly most of these copies are, well, just copies and do not reflect what the original intention of this cheese was. Therefore it's amazing that we can present you the Rolf Beeler Emmentaler, actually from the Valley of Emme giving it its name. And yes, it's also produced on fairly high altitude with a floral milk as its source. Maturing it then well beyond the milder cousins age, this 18 months Emmentaler has complexity paired with its typical nutty milk base. Pair it with walnuts and medium-dry white whine and you have a superb match fit for any gourmet.
Rolf Beeler Sbrinz Alpage, 4 years, ca. 200g
Alpage means it's a summer production only as the cows for this cheese travel high up the alpine pastures during the summer months. The golden yellow colour of the Sbrinz is a sign of the rich alpine grass and results directly in superior taste. Rolf's Sbrinz is then matured for a full 4 years in order to let it slowly ferment. Over this time its full aroma profile consisting of a salty base with a caramel-like sweetness. Break it into cubes and enjoy it for Apéro together with your favourite bubbly.
Please note that any additional cheese ordered in the same shopping basket will be combined with the Xmas cheese box and sent out all together in the week of 11th December to arrive before Christmas. Further details can be found here.
How we wrap your cheese
Freshness of your cheese is important to us. That's why - unless noted differently in the description - we package all of our cheese in vacuum bags to help minimize travel impacts. However, we understand that some of you prefer cheese being wrapped in cheese wrap. This option is available to you for a small fee (it takes more time to package the cheese this way, that's why we charge you a little bit more). Unless specifically noted in the description, all cheese will generally have a best before date of at least 14 days, vacuum packed cheese generally about 2 months. Please note that with cheese this is often only a guidance date and does not necessarily mean the cheese will be of lesser quality beyond that date. In fact many soft(er) cheeses are best kept close to or until after that date for maximum ripeness.
How the cheese gets to you
All Alpine Express cheese are shipped in environmentally friendlier, insulated cardboard boxes. The cheese is bolstered with recycled packing paper & kept cold with food grade ice gel pack(s). It is shipped the fastest possible service, usually Australia Post Express. See Australia Post's Express Delivery Estimator (origin is 'Brisbane Metro'). From time to time we may choose a different shipping provider depending on speed of service, costs and other factors.
Unless noted otherwise, all cheese boxes are sent on Mondays with an order cut-off time at 9am (Sydney time) that day. You will get a tracking number to follow your parcel's progress.
Do you have any other questions? Check our FAQs for additional information or write to us via our contact form.